I just completed the first trial of my Running Cold experiment and have some preliminary results!
I had previously defined my plan for the experiment at the end of this post.
Weather/Temperature
Here's the weather info for today, according to Google: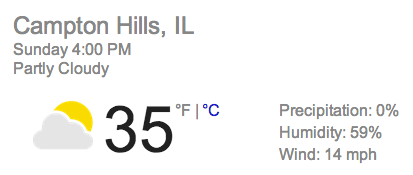 Attire
For the run I wore a pair of running pants, tennis shoes, a black T-shirt, and a black ski hat to cover my ears (I get headaches if I'm in the cold with my ears uncovered). Once the weather gets warmer, I'll stop wearing the hat, but other than that I'll make sure my attire remains the same across trials.
Continue reading "Experiment: Does Running in Cold Weather Make Me Burn More Calories? (Part 1)" »